SLOUGH ROTARY ACTIVITIES THAT WELCOME YOUR PARTICIPATION
Annual Championship Quiz Night
The annual Quiz is usually held at Caldicott School Crown Lane, Farnham Royal, SL2 3SL. We compete for the prestigious SLOUGH EXPRESS TROPHY. The cost includes a fish & chip supper & complimentary nibbles. We aim to raise over £1,000 each year from this event for the club's charity work.
Get a team together (up to ten per table) and contact the organiser with your entry. If you would prefer to join a team just let us know! - after all it's a fun social event! All-comers are welcome to compete, whether singles, couples, threesomes or more.
Blood Pressure Awareness Day
The club provides local physicians and nurses who undertake free blood pressure testing during the day at a local supermarket. This year's event takes place on a saturday at the Sainsbury's supermarket on the corner of Wellington Street and the Uxbridge Road, Slough. We open for business from 10:00am until 4:00pm so do come and have your blood pressure tested by experts and for free.
Giant Easter Egg Raffle Event
The club collaborates with the catering department of Thames Valley University. Students craft giant (approximately 41cm high by 30cm diameter and weighing 2 kilogrammes) decorated 'luxurious chocolate' Easter Eggs as part of their patisserie course work. The club makes these are available to local organisations to raffle for charity. Included with the egg are posters and Lottery Registered raffle tickets. If you would like to help us to raise over £200 per egg please contact info@sloughrotary.org.uk
Balkans Humanitarian Convoy
In association with the registered charity 'Hope and Aid Direct' the Club supports the twice yearly convoys which take aid in the form of food, clothing, tools and equipment to refugees and displaced people in war torn Balkan countries including Kosovo. A warehouse for donated goods is maintained and members take part in driving trucks and delivering aid directly to the people in need. Support is required in donating goods, collecting, storing and sorting these for shipment as well as taking part as a driver or crew and ground support in the countries visited. Convoys take place at Easter and in October each year.
Slough Walk Together Saturday May Day Bank Holiday weekend
We organise an annual walk based around a picturesque stretch of the Thames that allow local charities or individuals to raise money by entering teams. Its a fun day with the aim of fund-raising and promoting healthy living. Individuals can also enter to raise money for their own charities. This year Rotary Club of Slough is offering prizes for the charities and individuals that attract the most sponsorship. Various attractions will keep walkers engaged at the start, during and after the walk. Full details can be found on the walk website..www.sloughrotary.org.uk/walk
Free Books Charity Shop
The club was maintaining a retail outlet on Slough High Street that was there to promote the joys of reading and learning by giving away free books to members of the public. The shop was open most Saturdays. The site we were using is currently unavailable, so we are looking for a suitable replacement.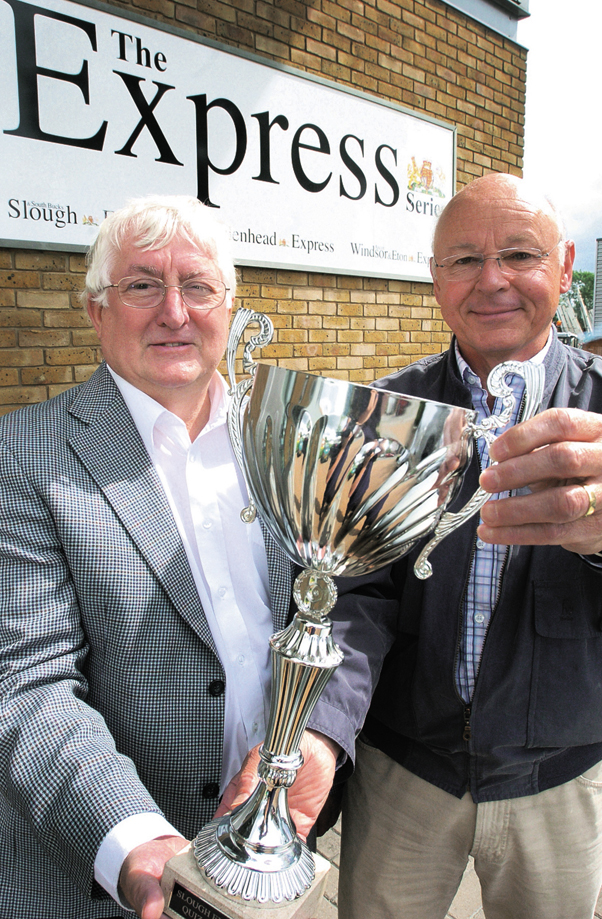 Pictured are Quizmaster 'Town Crier' Terry Pattinson and President of The Rotary Club of Slough, Roger Home,with the magnificent, perpetual Slough Express Quiz Trophy. All-comers are welcome to compete, singles, couples, threesomes, more, we will help you get a team instore.
THANKS FOR LIFE - END POLIO NOW
In 1985 Rotary International started a project with WHO,UNICEF and US Disease Control to rid the world of Polio. At the time there were 350,000 new cases every year, killing or paralysing all sufferers. This year so far there have only been 536. We are nearly there, but cannot be sure of victory until there has not been a single case in the world for three years. We still immunise millions of children under 5 in Africa and India every year.
Every child immunised has a purple dot put on their finger. Slough Rotary has planted 10,000 Purple Crocuses on the J5 Honda roundabout of the M4 as a symbol of the campaign and a reminder that we still need more funds to continue. Another 3 years should see the job done. Look out for the crocuses and our Banner again in February/March. Enjoy the Crocuses and remember THANKS FOR LIFE, Help Us To END POLIO NOW. The Rotary Club of Slough thanks Honda UK and Slough Parks Dept. for their help in this project.